Llevo trabajando con Oracle alrededor de 6 años, especialmente con Oracle Designer, Oracle Reports y Oracle Forms, en estos años aunque he aprendido otras herramientas de Oracle como Oracle Aplication Server, Jdeveloper, Oracle Discoverer, Oracle Enterprise Manager, etc. Aunque en realidad mi fuerte es Developer Suite, el especializarme hasta el día de hoy me ha funcionado muy bien.
Hace algún tiempo ya había leído sobre que va a pasar con estas herramientas en algunos años, lo que Oracle llama "Oracle developer suite Statement of Direction", que no es mas que el análisis del mismo Oracle sobre el futuro de estas herramientas. En estos últimos días retome la lectura del documento ya que una pregunta en una entrevista fue relacionada sobre mi propio futuro con Oracle Developer, la respuesta ya la vislumbraba desde hace tiempo, me interesa dar el siguiente paso formalmente, Líder de proyecto por un lado, por otro lado también me interesa la administración de la base de datos o lo que llamamos DBA, apenas reconocí otra área de interés que es el Oracle Application Server.
En los tiempos que leí sobre el tema, no recuerdo que Oracle considerara la versión 11g de Developer Suite, por lo que el tiempo de soporte para estas herramientas se acortaba para finales de esta década, ahora considerando que se desarrolle una versión 11g el tiempo de soporte se alarga un poco, mas o menos a principios de la década que viene, pero ya no se habla de versiones siguientes, aquí el "tools product plan" de Developer Suite: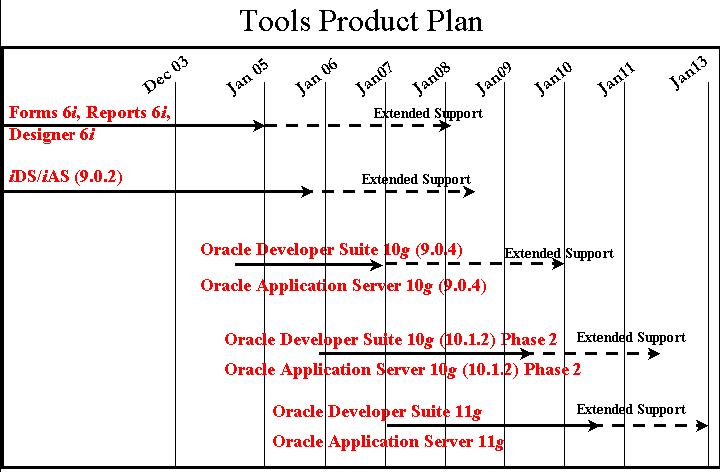 Que significa todo esto? Pues para los que no trabajan con Oracle Developer ni piensan trabajar con el en los próximos años nada, para los que si, que haciendo cuentas, mas o menos a principios del 2010 se acaba el soporte normal para la ultima versión de Oracle Developer, esto es, ya no habrá nuevas versiones ( creo que el "extended support" incluye también la parte de parches aunque este acaba en el 2013, de ahí ya ni parches abra ), considerando que ya casi estamos en el 2007, entonces hablamos de 3 años para que Oracle formalmente termine los nuevos desarrollos para estas herramientas, después solo es labor de soporte, no significa que las empresas hasta el 2010 estén pensando en desarrollar sus últimos proyectos con Oracle Developer, una empresa con directores cuerdos sabrán que ya a estas alturas un desarrollo con Oracle Developer no resulta factible ( aunque muchas empresas no tienen directores cuerdos )
Así que señoras y señores desarrolladores, a pensar en diversificar su aprendizaje por otros lares, especialmente a los especializados como yo o atenerse a las consecuencias del desempleo por falta de oferta con estas herramientas, empresas, pues creo que no hay mas para Oracle, Java es lo siguiente, el mismo Oracle lo dice muy claramente al final de documento:
Recommendations for Oracle's Customers

Oracle recommends that Forms, Reports and Designer customers follow a similar path that it took with its own E-Business Suite of applications: (i) Move to the Internet, (ii) Upgrade to the latest versions of Oracle Forms, Oracle Reports, and Oracle Designer; and (iii) Interoperate and coexist these applications with new J2EE applications using Oracle's Application Server.

For customers who are facing new requirements such as a move to a self service model or a market pressure to provide an HTML user interface, the Java2 Enterprise Edition (J2EE) specification has opened up a whole new set of options for application development not previously available to the developer. As such, we fully expect customers to be exploiting these opportunities and to take advantage of J2EE to build extensions to their applications. Thus, our strategy is also to provide a modeling and J2EE development environment familiar to Forms, Reports and Designer developers.

Oracle JDeveloper 10g provides a visual and declarative development experience as well as an end-to-end application development framework (Oracle ADF) designed to simplify J2EE development and bring the productivity and ease of use of Oracle forms to the J2EE platform. The Oracle E-Business Suite has successfully standardized the development of all the J2EE applications on this development environment.

Oracle JDeveloper 10g with ADF is the tool of choice for Forms, Reports and Designer customers because it carries over a similar development model. However, given the architecture difference between J2EE and Forms or Reports, Oracle has no plans to offer a complete migration solution that would attempt to migrate applications built with these tools to J2EE. Instead, Oracle's strategy is to provide a J2EE development environment exposing similar concepts as Forms and Reports, giving to Forms and Reports developers the opportunity to become productive in a new, but familiar environment.